---
[Main content]
Emotional tributes to his friend Michael Jackson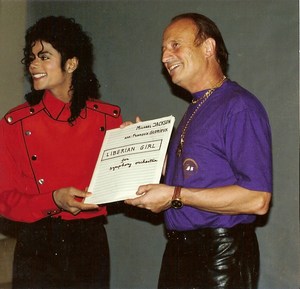 Deeply shocked by the death of his great friend and colleague Michael Jackson, François Glorieux appeared on several TV and Radio stations : VRT (De zevende dag, Belgium), ORF (Austria), RTL/TVI (Belgium), Nederland 1 Radio, Radio France,CZ TV,etc...
The way he played Michael's favourite ballad "She's out of my life" was in the Czech Republic one of François' most emotional moment of his life, first followed by 30 seconds complete silence of the audience and than 3 standing ovations!
Let us remember that Michael Jackson greatest wish was to appear in symphonic and instrumental versions of his most famous hits in personal arrangements by François Glorieux.
3 of them were already performed in concert with an incredible success by the "National Symphony Orchestra" (London) conducted by François Glorieux himself.(Bad, Liberian Girl, Smooth Criminal).
Other arrangements have been done by Glorieux on : Beat it, Billie Jean, Don't stop till you get enough, I just can't stop loving you and Ben. François also composed a suite of 8 pieces called "Tribute to Michael Jackson" describing the life of the "King of Pop".
A few links:
-VRT "De zevende dag" inteview (dutch)
-Nederland 1 Radio "Dit is de dag" starting at minute 11.45
-Pictures of François with the "King of pop"
Permalink: http://www.francoisglorieux.com/news/2009/2009-07-14.shtml