---
[Main content]
Meetings
André Cluytens & François Glorieux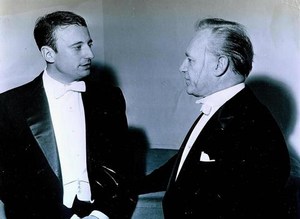 The collaboration with the world famous conductor André Cluytens can be considered as a unique fact in François Glorieux' career : 29 concerts in Belgium, Germany and Austria, not only as soloist but also as composer in major cities (Brussels, Ghent, Berlin, Vienna, Munich, Frankfurt, Hannover, Kassel, etc...) with memorable performances of the "Rhapsody on a theme of Paganini" by Rachmaninov, the 3rd pianoconcerto by Bartok, the "Carnaval d' Aix" by Milhaud and of course the triumphant success of "Mouvements" for piano, brass and percussion by Glorieux in 1964.
Cluytens is one of the persons who influenced François the most, he looked up at him like a father.
A great concerttour of both artists was planned in the USA but unfortunately didn't go through because of the sudden death, in 1967, of André Cluytens. François has been his last soloist in Vienna.