---
[Main content]
Meetings
Neil Armstrong & François Glorieux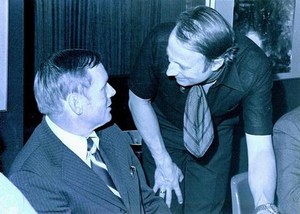 During a television show on the RTBF (a few months after the first landing on the moon in 1969) with Neil Armstrong, Oleg Makarov and François Glorieux, Neil asked François a musical improvisation about his first steps on the moon!
François asked him to describe the moon as he had never been there. Armstrong explained it as a place where he would like to go on holiday... As improvisation theme François used "Lucy in the sky with diamonds" of The Beatles, adding many special effects such as glissandis and effects on the strings and wood of the piano.
Later on François used the theme "Ebb Tide" of Robert Maxwell in his recitals, to illustrate this meeting.